Cambria
…a tiny village on California's pacific coast, lined with pines and full of charm!
Centrally located between Los Angeles and San Francisco, Cambria is a small coastal village nestled in Monterey Pines at the southern entrance to the famous Big Sur Coast line. Cambria makes a great sanctuary for all those who desire to escape to a calm and soothing natural environment. Only three hours from either city, Cambria is close enough to be a convenient vacation retreat yet far enough away to enjoy the calm seclusion that a Cambria vacation provides. Looking to buy some property? Visit Cambria Real Estate.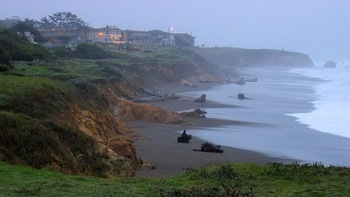 Cambria has so much to offer vacationers that you can customize your experience to ensure a unique and fulfilling stay. Whether it is exploring the variety of natural settings, relaxing to the sound of waves crashing on the shore, experiencing the breath taking pacific coast sunsets, tasting the deliciously unique food variety provided by the nearly two dozen white table cloth restaurants, or touring through wine country in search of the perfect Pinot Noir, Cambria will surely meet the need.
Cambria has become the preferred destination of so many vacationers that many people have chosen to purchase a home here. Some are full time residents and some purchase second homes here making real estate in Cambria a sound investment. With great service providers around, like cambria plumbing companies you don't have to worry about home maintenance as much.
The artsy appeal of the village continues to attract a variety of vacationers and residents taking advantage of the various music concerts, theater performances, and art shows creating a fun and eclectic community. If that isn't enough you can take a stroll down Main Street and go shopping at the unique shops that line the street on both sides. This wonderful little town makes a great place for weddings, conventions and workshops. It is host to various special events including car shows/rallies, retreats and so much more.
Please take the time to explore this site and the many things this wonderful coastal village has to offer, so that you can come and leave saying what countless others have said, "I Heart Cambria!"